Paneurhythmy is a practice suited for all ages. Paneurhythmy cultivates both children's motor skills and harmonizes and balances body's energies as well.
When: Every Thursday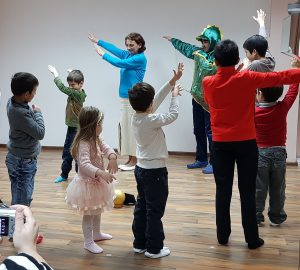 At 05:00 pm for younger children;
At 06:00 pm for older children.
The practice duration is 50 minutes.
The training should end in April 2019.
The capacity is up to 10 children per group. In case of smaller number of children enrolled, the groups may be merged into a single one.
Age groups: Younger children at the age of 4 or 5. There is no restriction for the upper age limit for children older than 5.
Course fee: the training is free..
Recommendations: Children will participate without their parents being present, except those under the age of 4. A comfortable clothing suitable for dancing and thick socks or gymnastics shoes are required.