The course starts on 10th of October 2018 and ends on 20th of March 2019.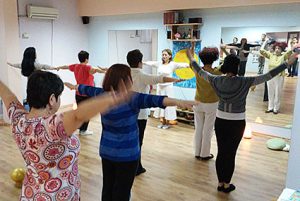 The classes are held every Wednesday at 7:30 a.m. and at 7:15 p.m. at Ananda Yoga Studio, located at 16 Leonardo Da Vinci Street, in Plovdiv. Instructor is Dr. Svetla Baltova – an MD and a holistic practitioner. She has graduated in Plovdiv and had a career in cardiology and rheumatology. Over the past years, she is practicing holistic medicine comprising in naturopathy, Bach flowers therapy, astropsychology. She is teaching Paneurhythmy in Bulgaria and abroad as a healing practice that has a beneficial influence upon the overall condition of man: emotionally, mentally and physically.
The duration of the classes is an hour and fifteen minutes. The participants are introduced to lyrics, music and movements of every single one of the Paneurhythmy exercises, which consists of three parts, the first being the longest one with 28 exercises. During the classes, all three Paneurhythmy elements, namely music, poetic lyrics and movements, are discussed and practiced.
Course fee: the training is free.